Services and Support Activities
[wpseo_breadcrumb]
The Center offers the following Services and Support Activities to companies and enterprises:
Idea Generation and Problem Solving Area
Problem modeling: assistance to analysis and modeling of the problem in order to make arise possible hidden conflicts;
Ideas generation in engineering design context: facilitation to generate inventive concepts and support to boost individual or group technical skills and competencies;
Patent Circumventing: support to identify free rooms uncovered by selected patents;
Value Analysis for Products or Processes: support to modeling to evaluate the perceived value of Products or Processes;
Innovation Projects Support: facilitation to modeling the problem, investigating possible concept solutions and selecting the preferred ones.
INNOVATION STRATEGY AREA
Technology Forecasting: facilitation to technology foresight analysis and support to decision-making activities in R&D;
Technology Maturity Assessment: evaluation of the maturity level for target technology from qualitatively and quantitatively level;
Strategic analysis of patents: positioning of a selected pool of patents and identification of technological trends;
New Value proposition: support to the decision-making activity on new business models for Products or Processes;
Technical Information and Knowledge Area:
Patent State of the Art and Patent Landscape: patent search service;
Prior Art search: patent search service for prior art evaluation;
The network of experts: support to identify the best technical and scientific competencies according to target need, among contacts of Fondazione Politecnico di Milano and Partners of the Center.
Complementary Services Area:
Identification of public funding: assistance to retrieve and submit proposals on public funds, through Fondazione Politecnico.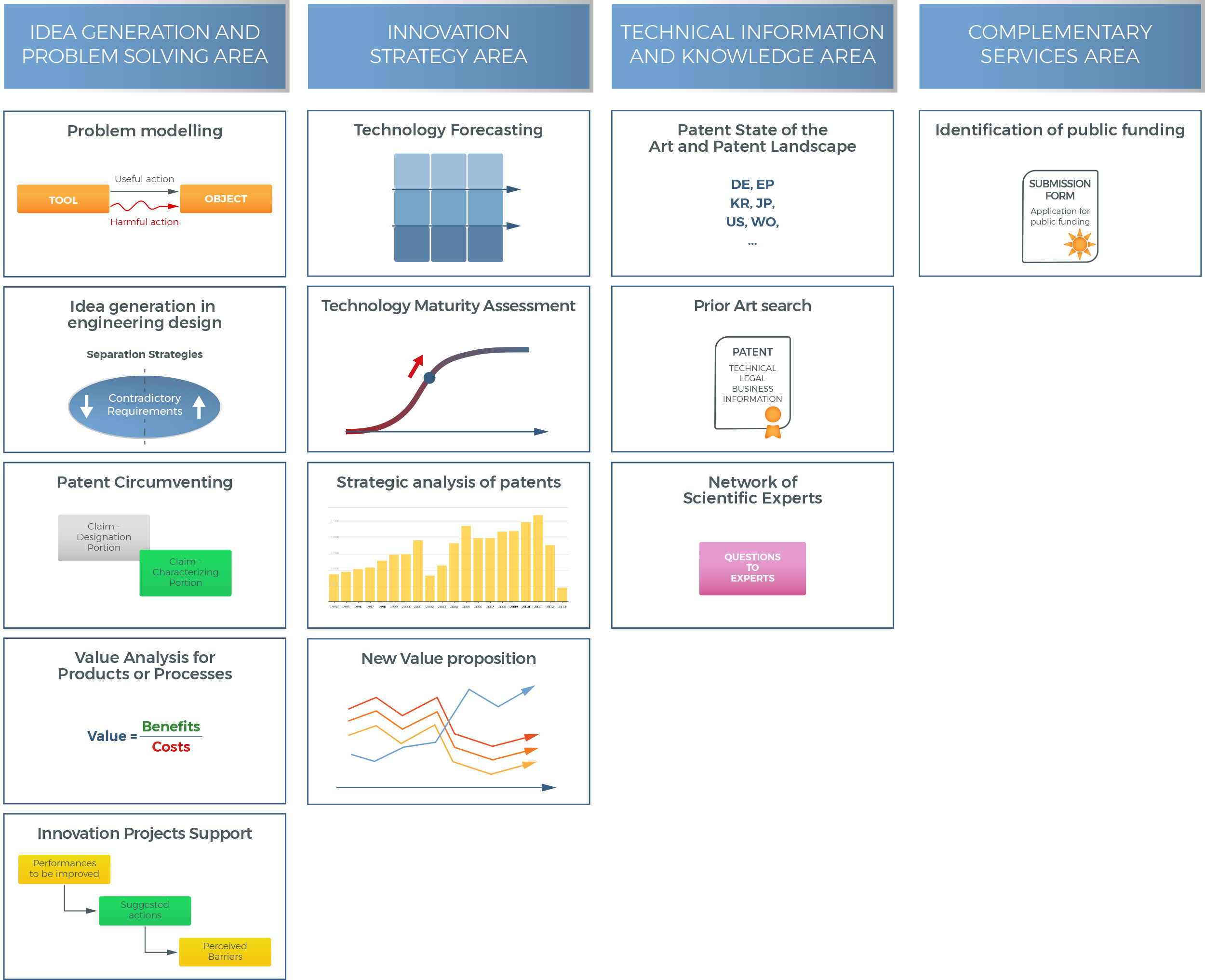 Cited services are carried out by the experts of the Center substantially in an autonomous way, with a limited effort of the Client.
During the collaboration period, some live meetings will be planned to evaluate the progress of activities and to share partial results.
Proposed services should be interpreted as elementary units to be put together in order to build a customized proposal of collaboration, made of different working activities. Based on the specific needs of companies, it is possible to formulate customized services and activities even further what described in the mentioned support services.